With classic features combined with peaceful deposition, Tropical Bar's design is a distinct highlight among Phu Quoc tourist attractions. Bars with a gentle space to create relaxing enjoyment are very popular today. Let's explore with KenDesign the bar space that blends the unique tropical style of Tropical bar design, through the article below.
Tropical Bar Phu Quoc - quiet and attractive chillout space
Inspired by the tropical tropical style and delicate classic features, the Tropical bar space offers a relaxing and cozy experience in a close-knit space. Not noisy, noisy like other bars, Tropical design will create your own space to relax and enjoy drinks. The unique combination of tropical style and classic touches creates a warm space that brings peace to customers coming here.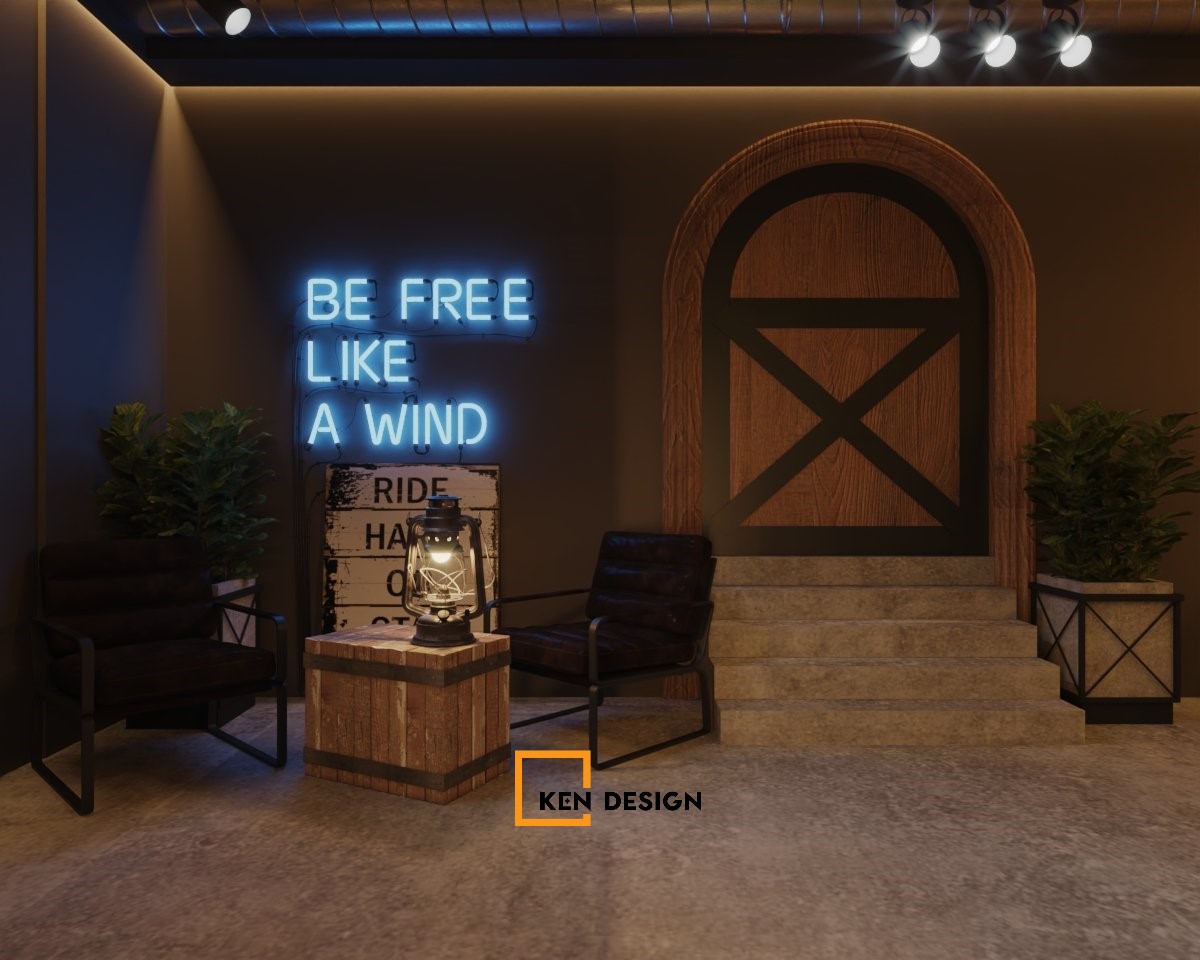 Highlights in the interior design details of Tropical Bar
The design of Tropical Bar is attractive with a simple space but tropical-style interior details create a quiet and serene home amidst fresh and poetic nature. With a variety of textures from different tropical plants with spreading leaf patterns from natural plants such as palm leaves, coconut leaves, etc., it brings a feeling of closeness and familiarity.
These motifs are printed in silence with the typical deep tones of tropical style, using scanning lights to highlight the impressive motifs. Ornamental plants with cool green colors are chosen for decoration to bring a feeling of comfort, peace, relaxation and closeness. All the emotions that Tropical style in interior design brings to living space.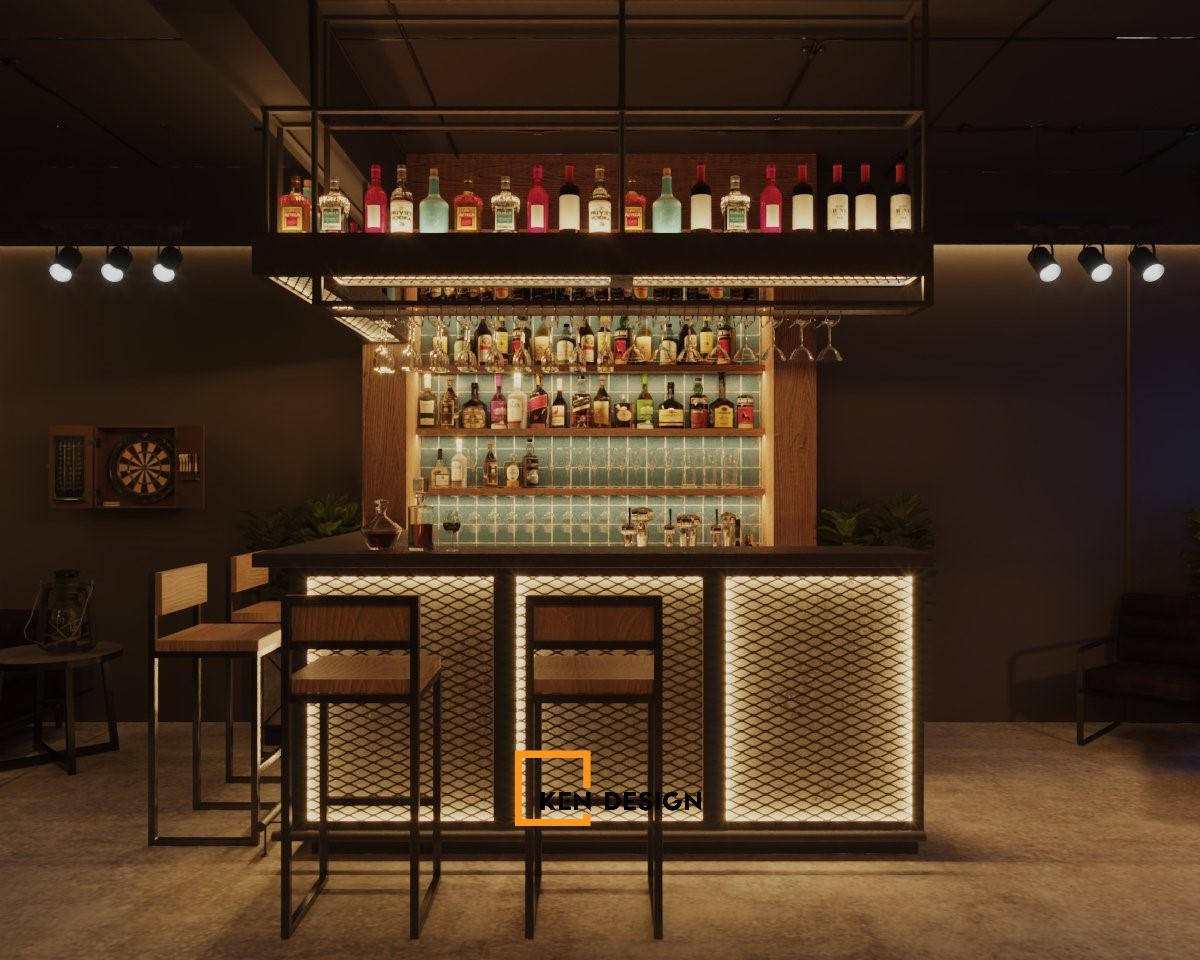 Classic space, deposited in Tropical bar design
The design of the Tropical Bar is attractive with a fairly large area, the important space is covered by warm colors that add quietness to the space. With a square area that makes the construction process easy, wooden furniture is arranged along the wall. Tables and chairs are designed high with unique support legs. Interspersed with that are chairs made from leather, a familiar material used in bar design. The materials used in the Tropical style, the interior are all of natural origin, rattan, wood, materials that have many utilities when used and have high aesthetics.
The bar system is designed in the middle of the bar, with a simple but sophisticated style. The bar is designed in a symmetrical square frame that creates a space in the middle. The upper part of the counter is designed from steel bars to be used as a place to display a variety of different wines, along with a glass shelf designed right below to facilitate the preparation process as well as increase the aesthetic for the bar system.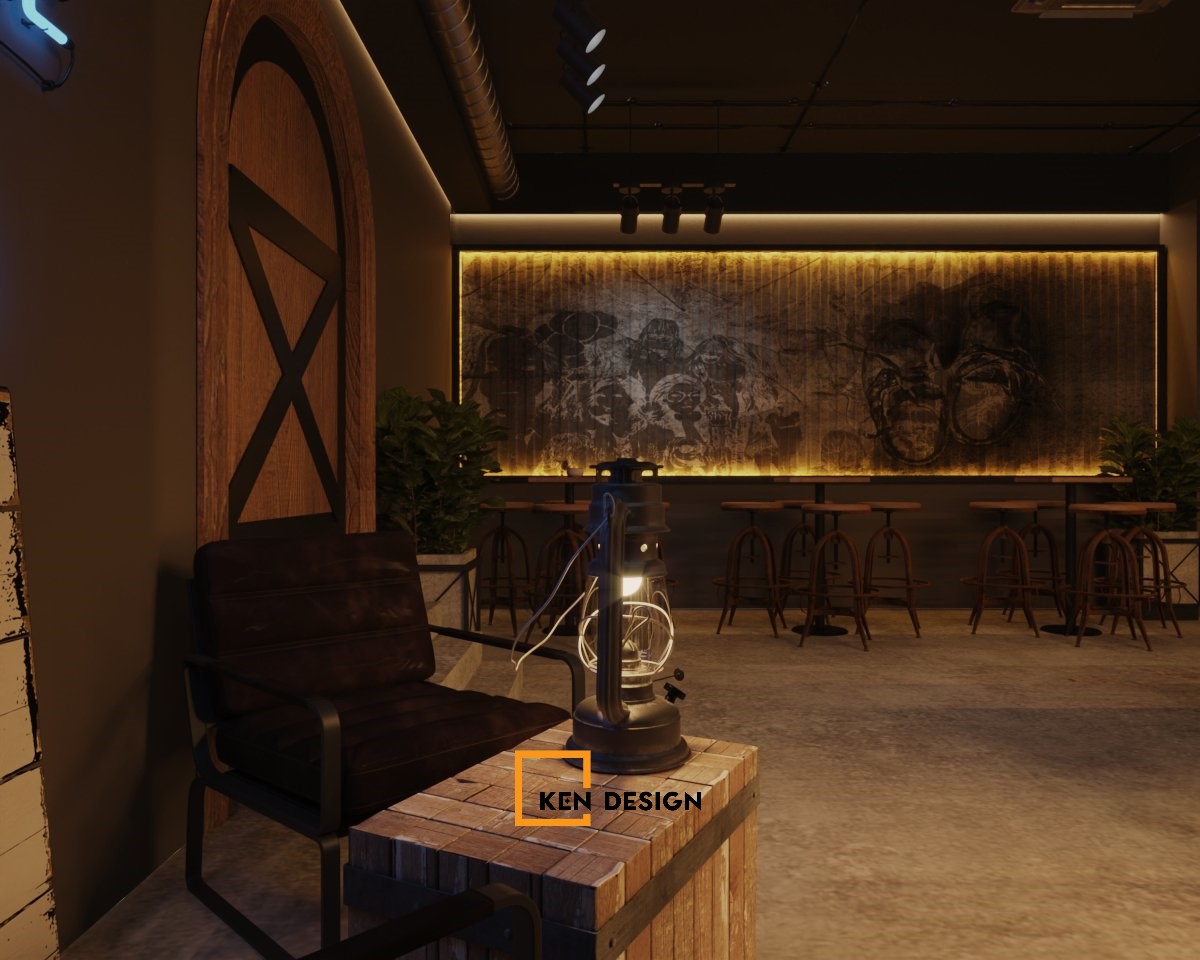 The wine rack is designed in parallel lines behind the tiles with typical tropical green colors. The counter stool is uniquely designed with steel wires woven together inside and installed with enough light strings to add prominence to the bar. High chairs with backrests are also reasonably arranged around the bar system to serve customers right at the counter.
In the design of the bar, light is an extremely important factor, the light system in the bar is smartly designed to both ensure light and create a cozy and relaxing space. The lights are installed running along the large picture decorated in the space, besides the classic Western oil lamps are also used to decorate a nostalgic atmosphere. The light that is radiated the most is from the highlight bar system of the restaurant.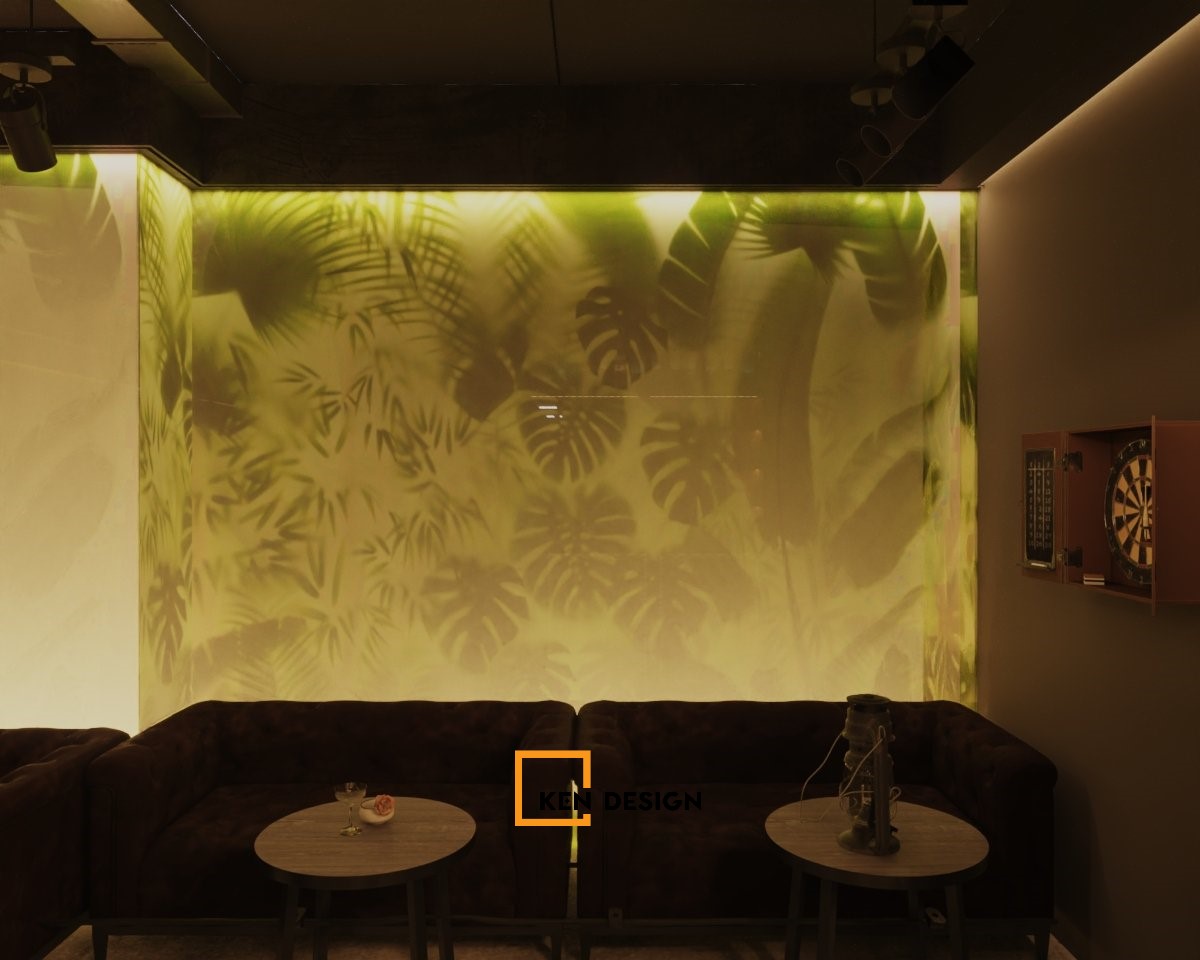 Many decor corners are also decorated and utilized to make the space more attractive. The message lines that the shop wants to send to customers are also uniquely and impressively designed. With a typical tropical style, the bar space is designed. With a quiet classic style, each small corner of the Tropical bar design space is individually arranged to create many choices for customers. If you come here to find a quiet place to relax for yourself or with friends, there are spaces to suit your needs.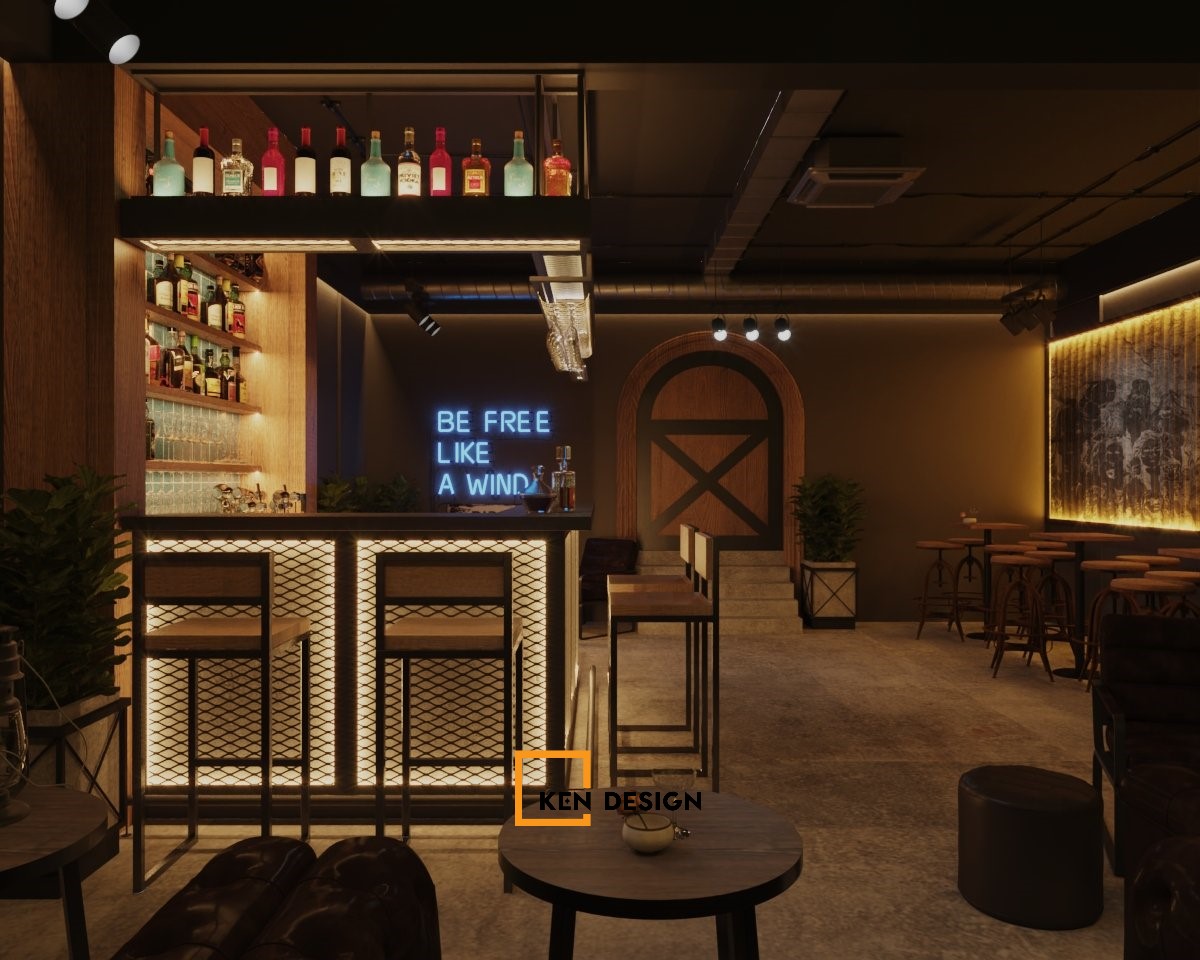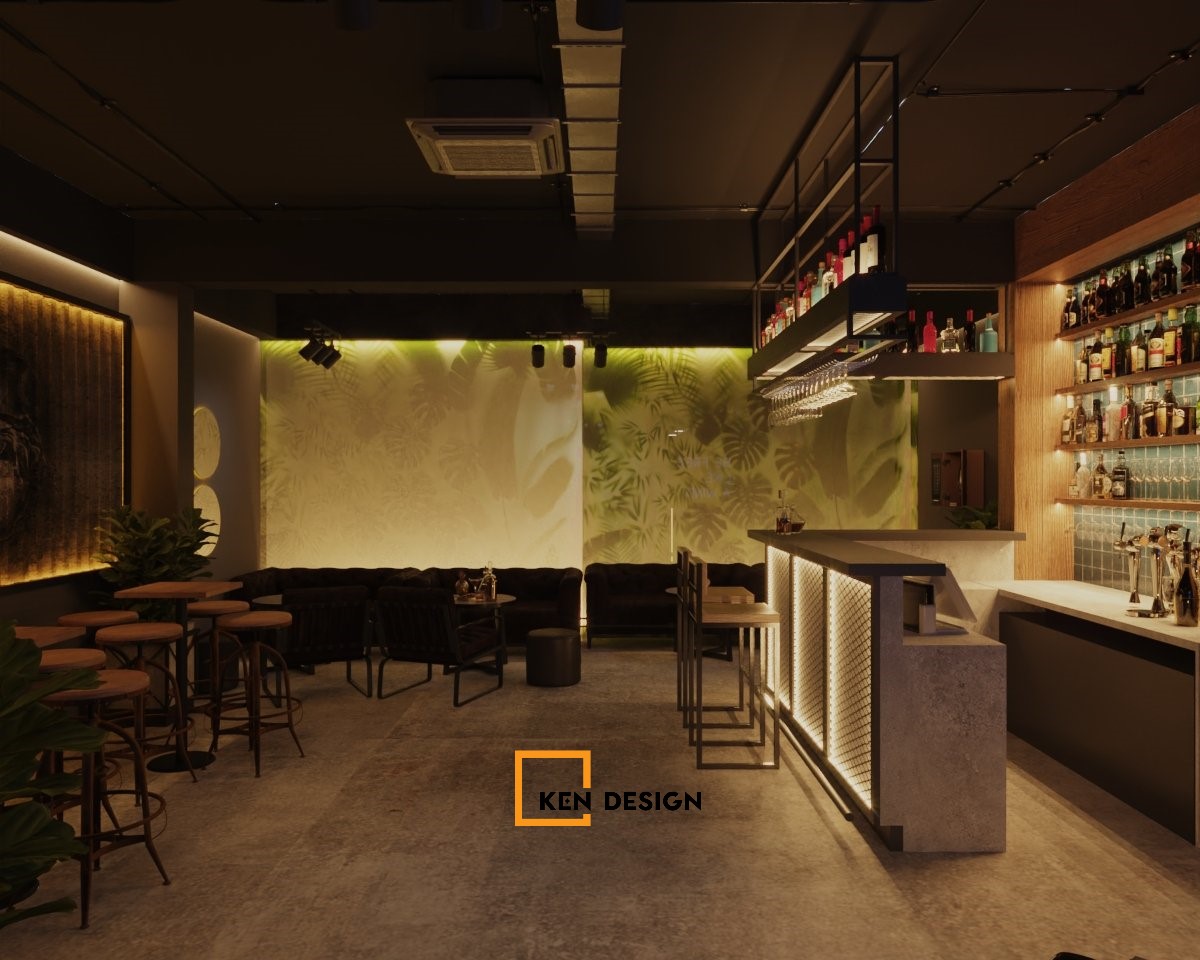 KenDesign - A professional unit in designing cafes and bars
KenDesign would like to sincerely thank the investor for trusting and cooperating with us to design Bar Tropical with uniqueness, sophistication and difference.
If you are planning to run a restaurant or bar business without a clear design direction, do not hesitate to contact KenDesign for a quick consultation. With a team of experienced architects, professional construction team and enthusiastic and attentive staff. KenDesign will help you answer questions and practical difficulties during the design and construction process, providing investors with unique, attractive and bright design spaces for restaurants, pubs, pubs and lounges to create.