The design of Sixth Sense bar with a unique and harmonious combination of classic and modern styles will surely bring customers new experiences when coming here.
Unique combination in the design of Sixth Sense Bar
As a person who is always sensitive and has a new perspective on the development and emergence of new trends in the market, Mr. Nam finds that nowadays, classic style bar design is very popular with many people, especially young people. And to make a difference in the design, to make the shop stand out and leave a stronger impression on the customers when coming here, the investor and the architect decided to combine the classic style mix rustic in the same space.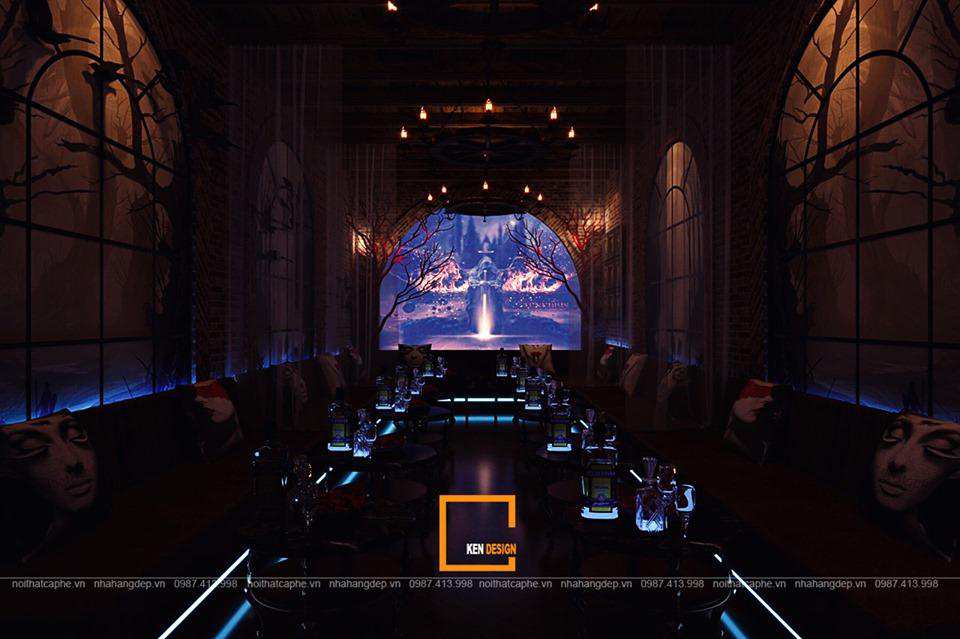 This design idea helped to give the space a new breath. Both bring a feeling of luxury, classic, and bring a sense of closeness, creating a comfortable and liberal space. People coming here can comfortably sway to the music, enjoy their own free play moments.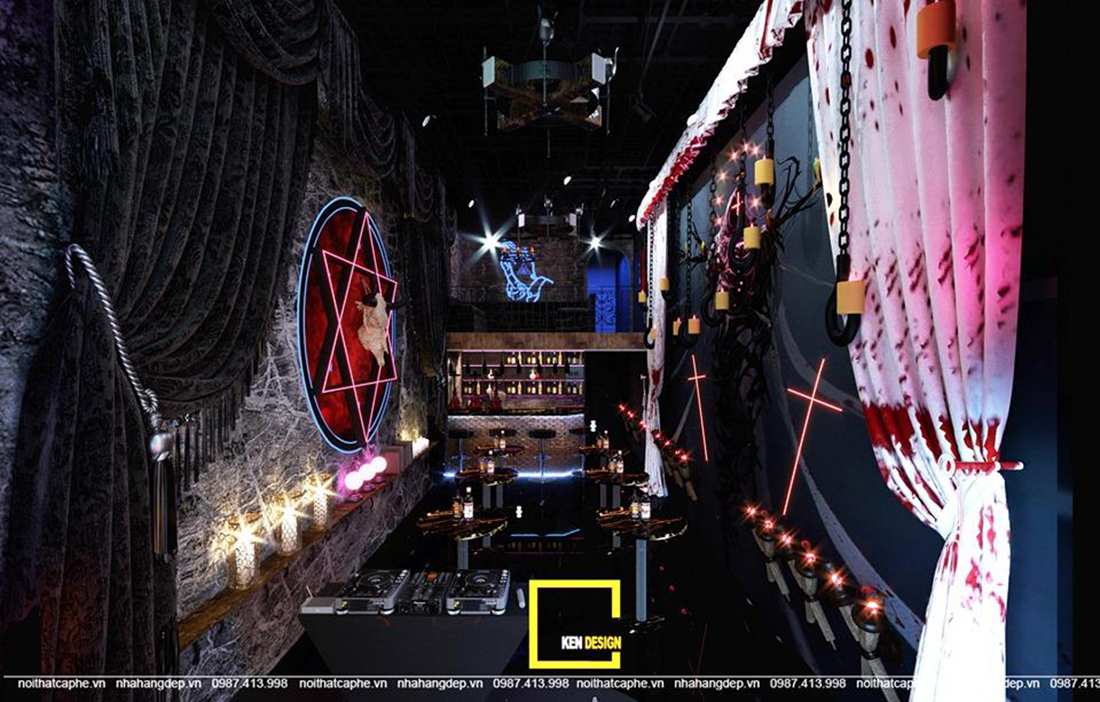 Unique interior design
Prominent in the entire bar space is a good combination of classic and rustic styles. However, the space on each floor, although still showing the above combination, gives customers different customer experiences.
The design of the first-floor space is strong and liberal
Coming to the design of the first floor space, first-time customers coming here will surely be impressed with the strong and liberal decorative details in the design of the restaurant. Do not own soft sofas or gentle, warm led lights. The design of the first floor of Sixth Sense Bar offers a vivid led screen with colorful, powerful and attractive 3D images. A dark tiled floor is transparent, creating a unique light-reflecting effect.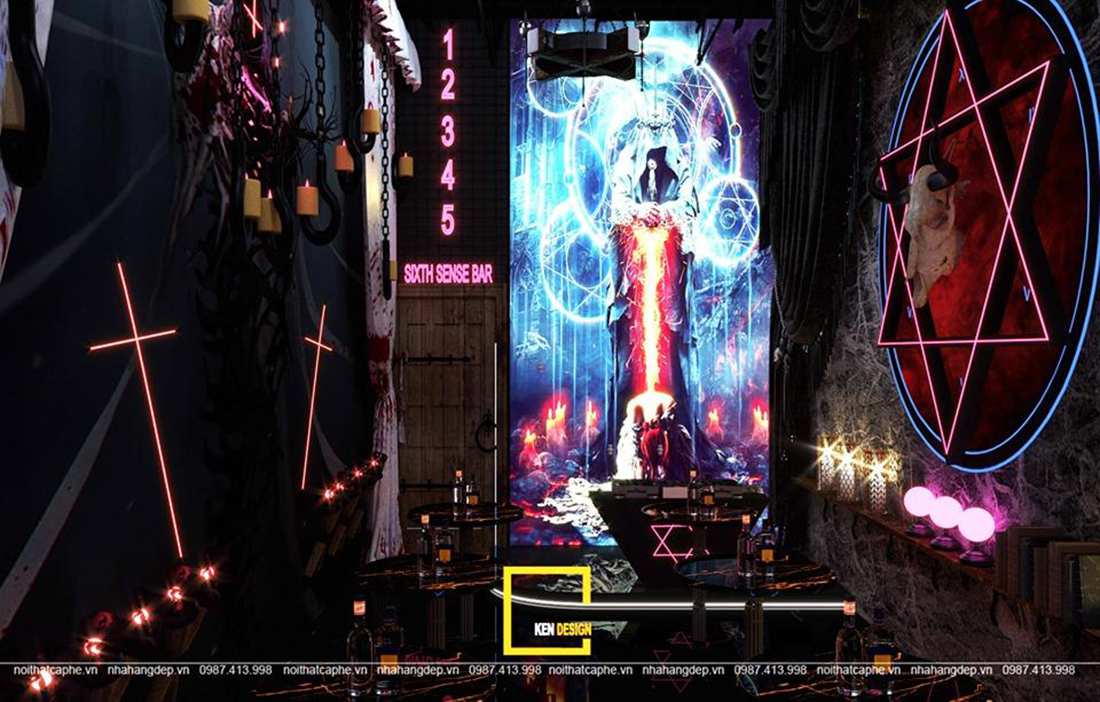 Besides, decorative details such as a round clock with a unique bullhead design, cartoon characters with impressive shapes. Combined with luxurious light-colored curtains, the lighting system creates accents for impressive details, making the space more unique and special.
Not only that, the combination of strong design details as above helps to create a comfortable and liberal space. People coming here can freely express themselves, relax their bodies, and dance to exciting music.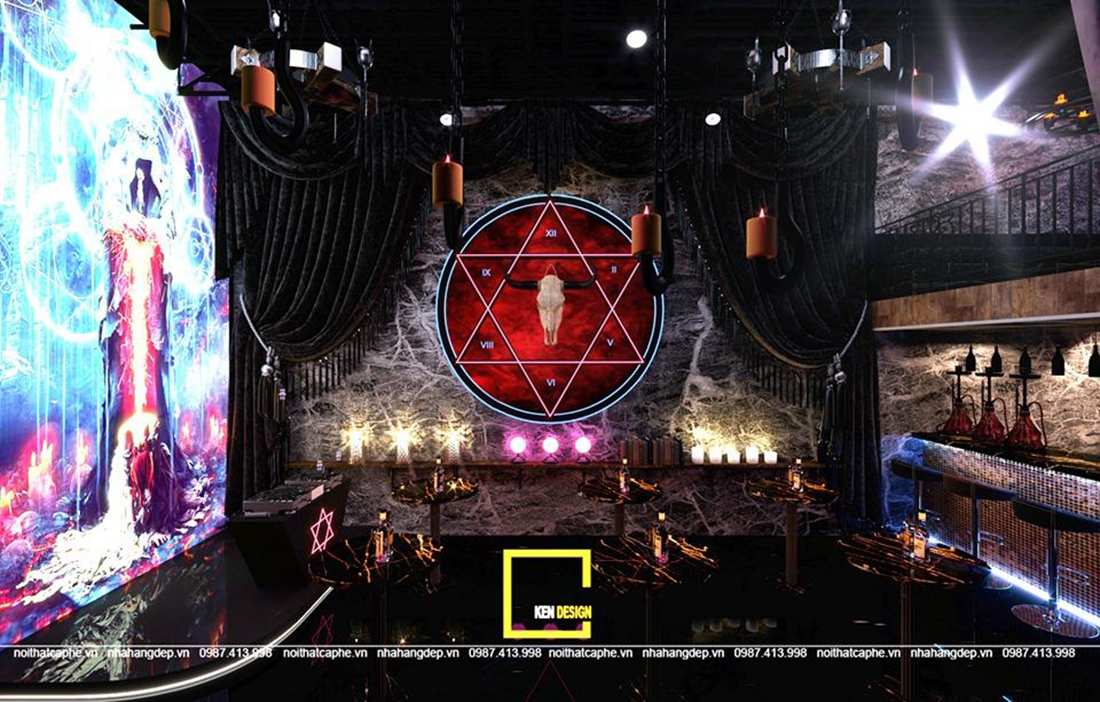 2nd floor space with luxurious and warm design
Different from the strong and liberal of the 1st floor, the 2nd floor space gives customers a feeling of luxury, sophistication and warmth. With classic red curtains, soft sofas, walls with dark colors, tile floors with a black and white checkered design, highlighting the classic style in the design. .
Besides, with the arrangement of separate single tables, long tables in the middle of the floor space, helping customers have an easier choice when coming here. Long tables will be great places for groups of friends to come here and entertain together.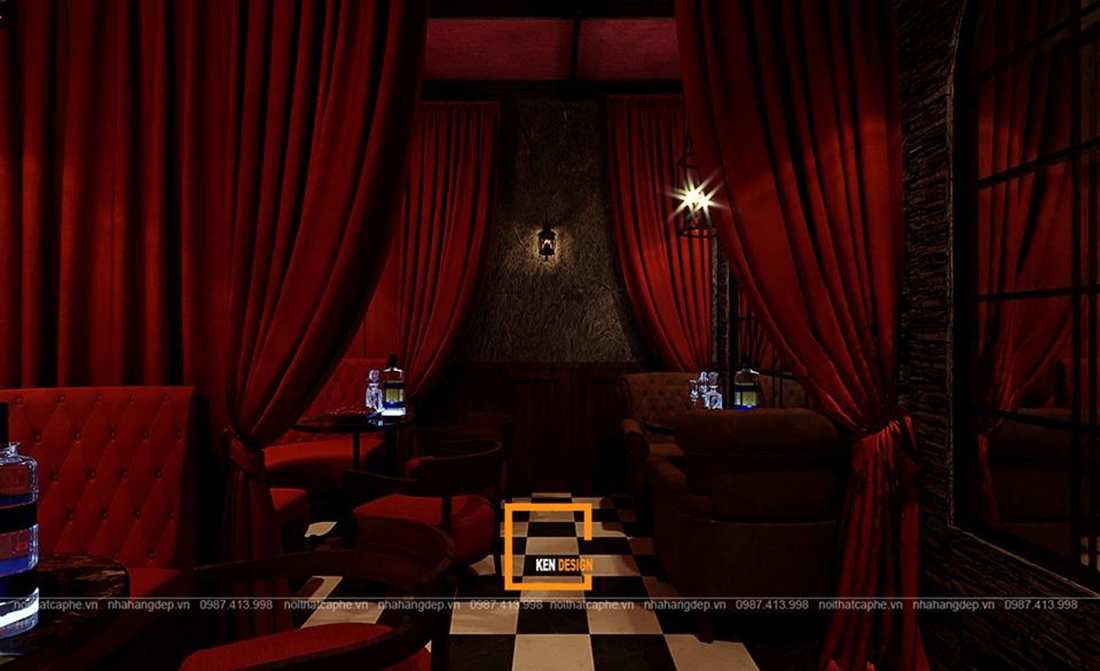 Design discreet and mysterious mezzanine space
If you are tired or have spent enough time with the music, and want some privacy to rest, then the mezzanine will be a suitable place for you. With a discreet location, the design is close to simple and rustic materials such as wooden walls, soft dark sofas. Built-in cabinet system with unique and impressive design, gives customers a feeling of relaxation and a little curiosity about the mystery of the design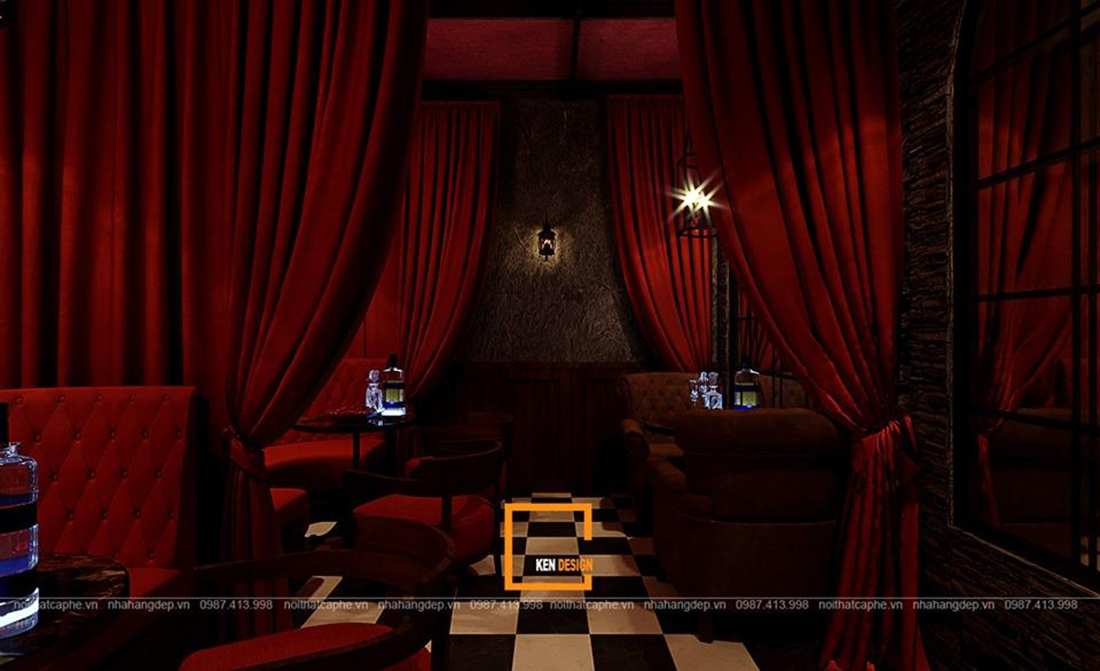 Besides, the design of the gentle lighting system brings a feeling of warmth and closeness. However, to create a unique and innovative feature in the space, the architect designed to add a black and white picture with unique and strange drawings, evoking a strong impression on many customers when coming here.
With a unique and harmonious combination between classic and rustic styles, in addition to the arrangement of some new design details. The design of Sixth Sense Bar becomes very impressive, and will certainly be an ideal destination for everyone to come here for fun and entertainment.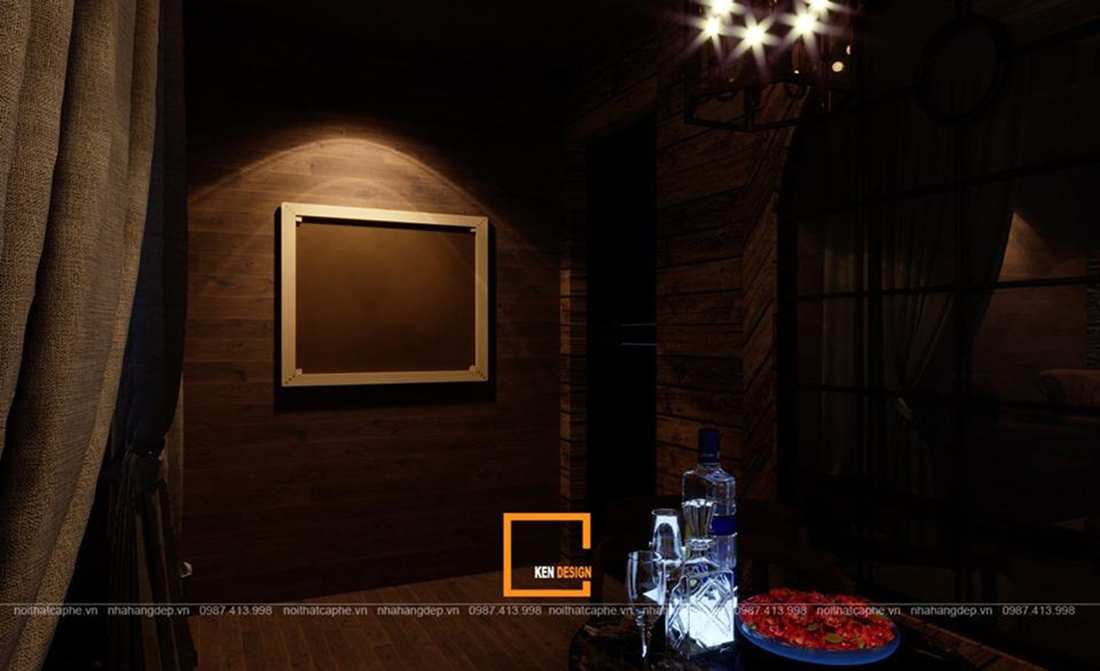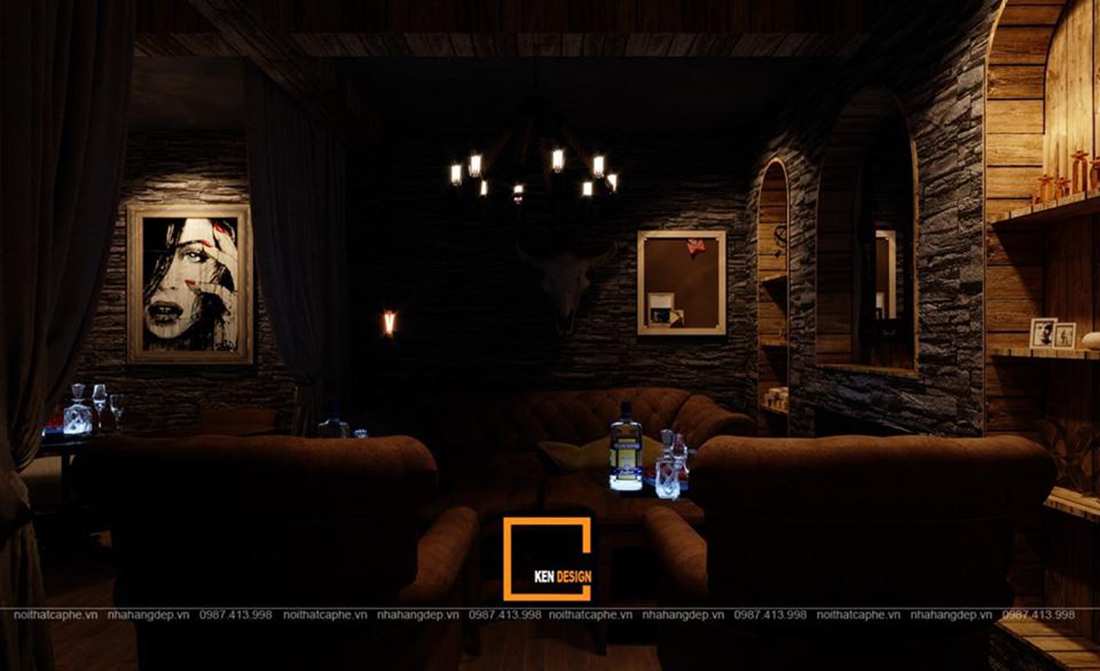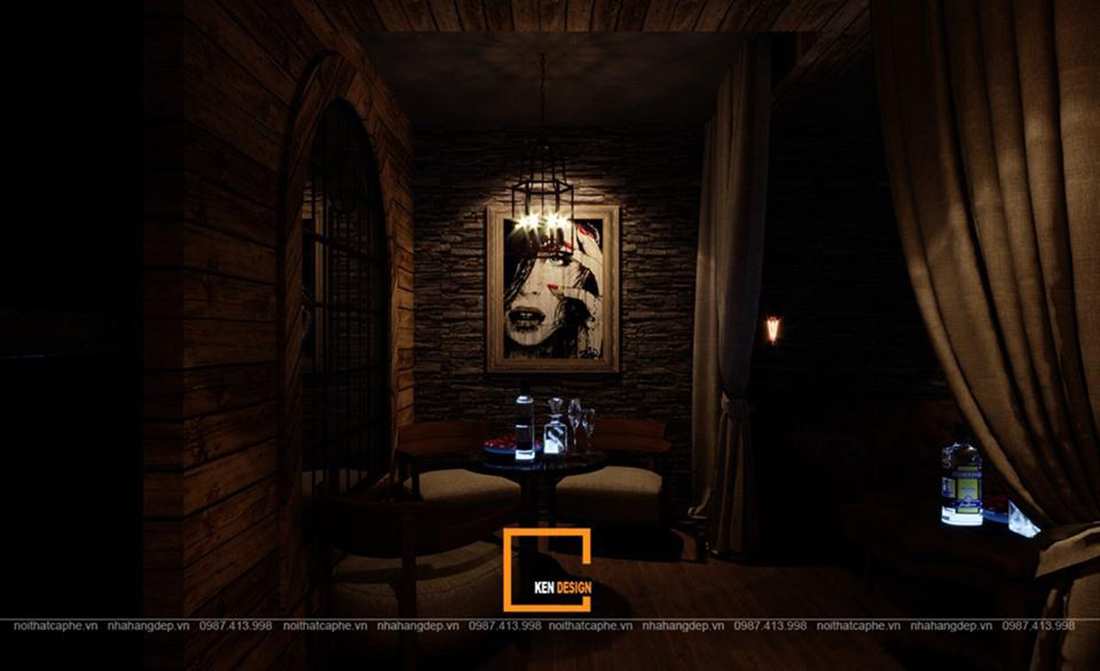 If you want to own a unique and impressive design as above, please quickly contact us to receive the earliest consultation. There is also the opportunity to receive great promotions in the upcoming July.
KenDesign with a team of experienced architects in the field of restaurant design and construction, will definitely bring you unique design ideas. Kendesign is pleased to accompany you in every project.