Flexible and Unique Architecture
Typically, milk tea shop designs are targeted toward young customers, including students and college students. The interior of The Machiato milk tea shop usually exhibits a youthful and dynamic vibe, contrasting with the elegance of regular cafes. However, in this project, the challenge presented to the architects by the investor is to incorporate the modern, charming, and sophisticated elements of cafe spaces into the milk tea shop.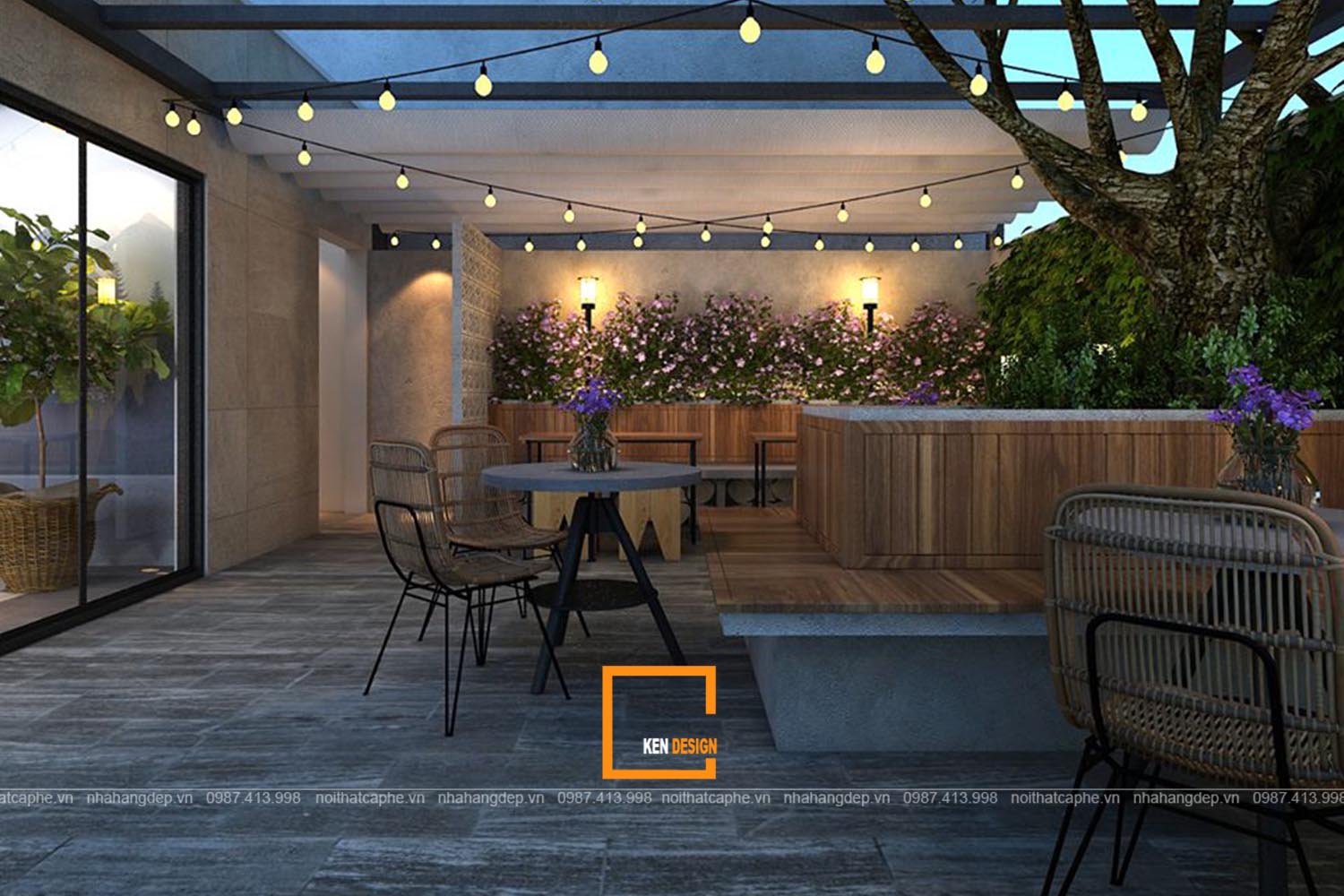 The Machiato milk tea shop boasts a spacious, open layout, and even includes an outdoor area. Kendesign strives to create a comprehensive and harmonious overall design. More importantly, each position within the milk tea shop's layout is impressive and distinctive. The unique wall and ceiling panels are cleverly combined with the interior furnishings. The architects meticulously calculated to ensure that they all occupy their most suitable positions.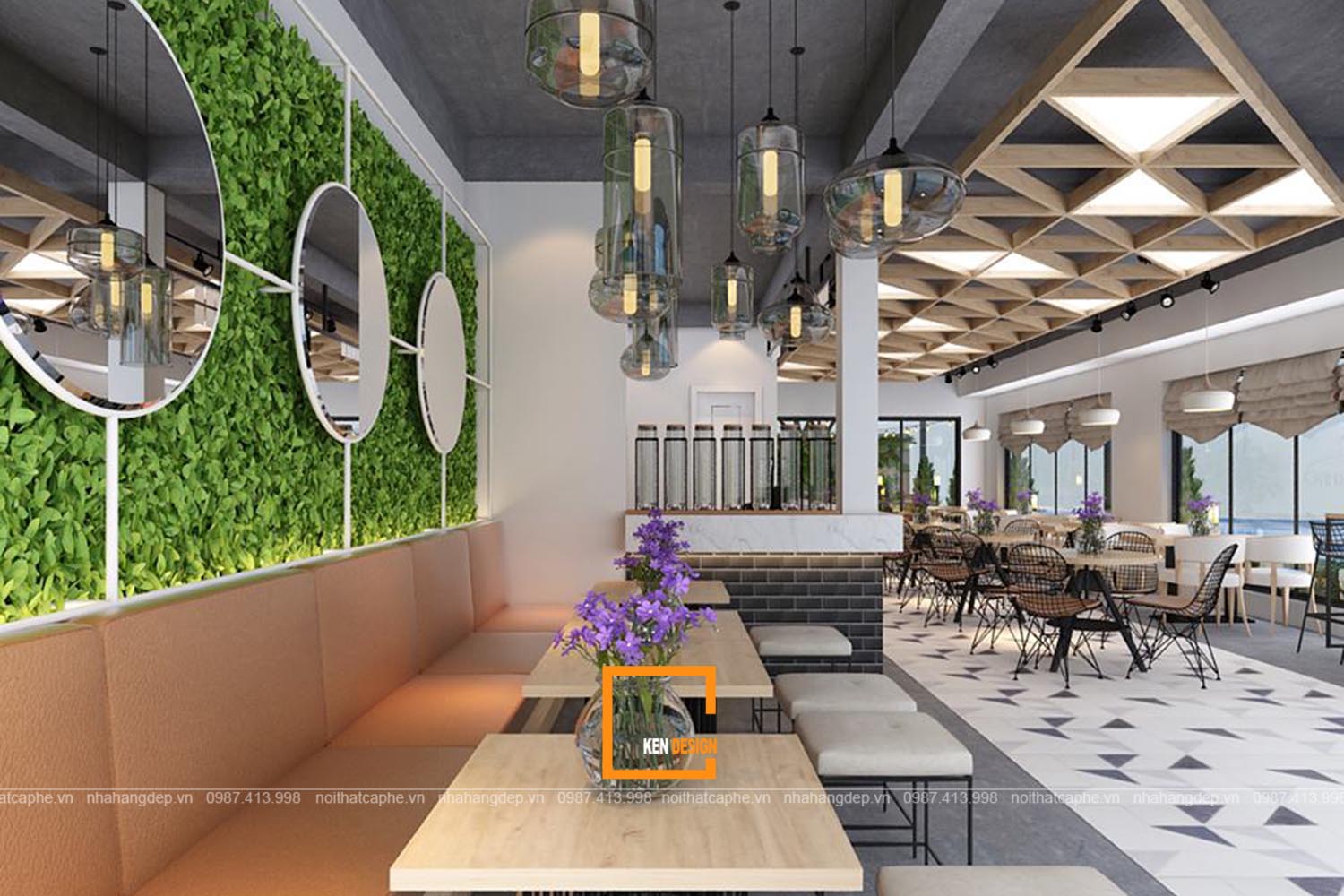 The interior space of The Machiato milk tea shop is uniquely divided, combining both indoor and outdoor areas, creating a distinctive and impressive ambiance for the establishment. The indoor and outdoor areas are seamlessly integrated with a system of glass doors. Additionally, the different areas inside the shop are efficiently partitioned to ensure that your establishment can cater to the maximum needs of customers.
The indoor space of The Machiato is unique and impressive
The interior creates focal points with its distinctive ceiling design. In this area, we designed a wooden ceiling with a geometric trend, forming a long straight line running vertically through the shop, passing over the bar counter, providing an eye-catching and attractive visual appeal.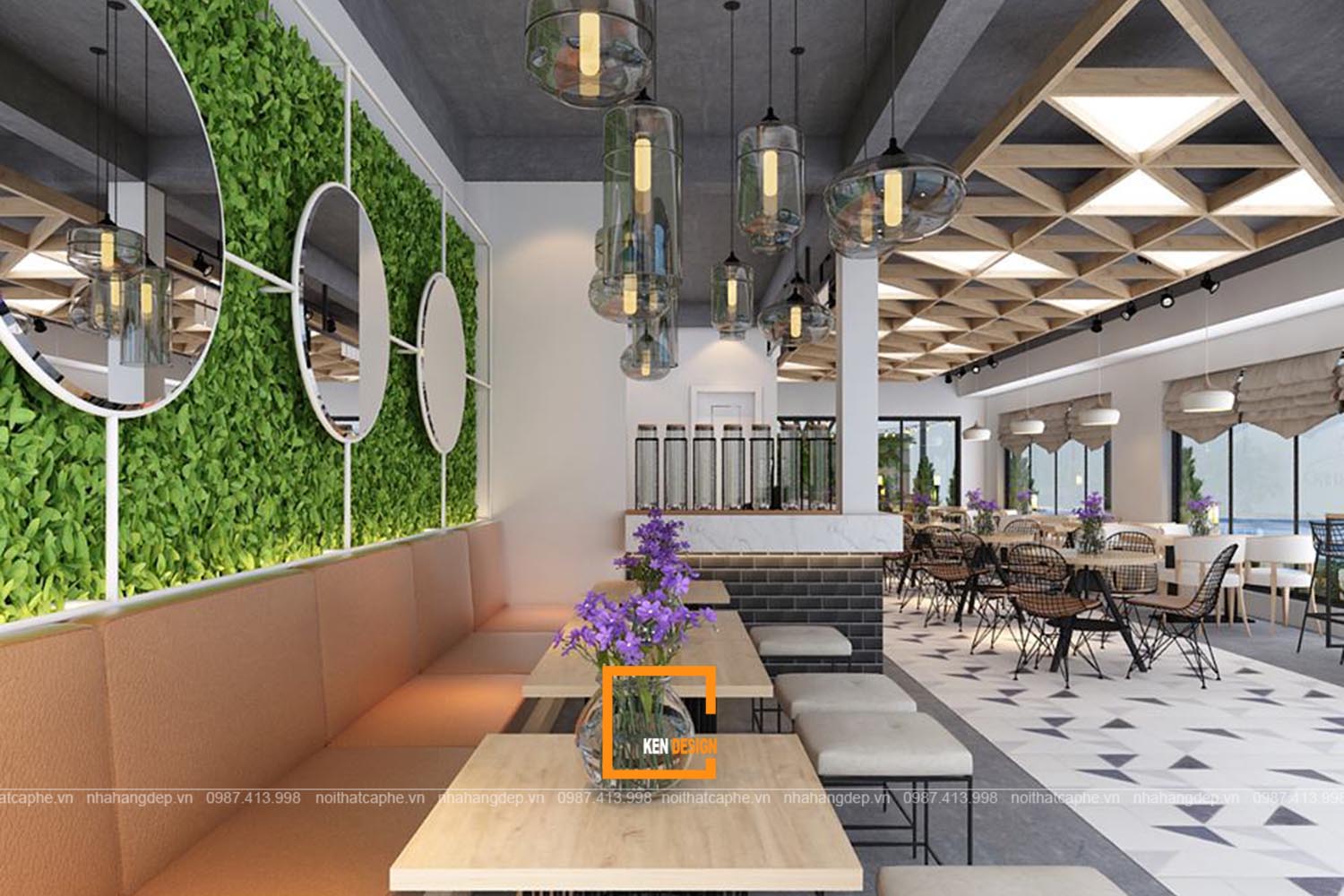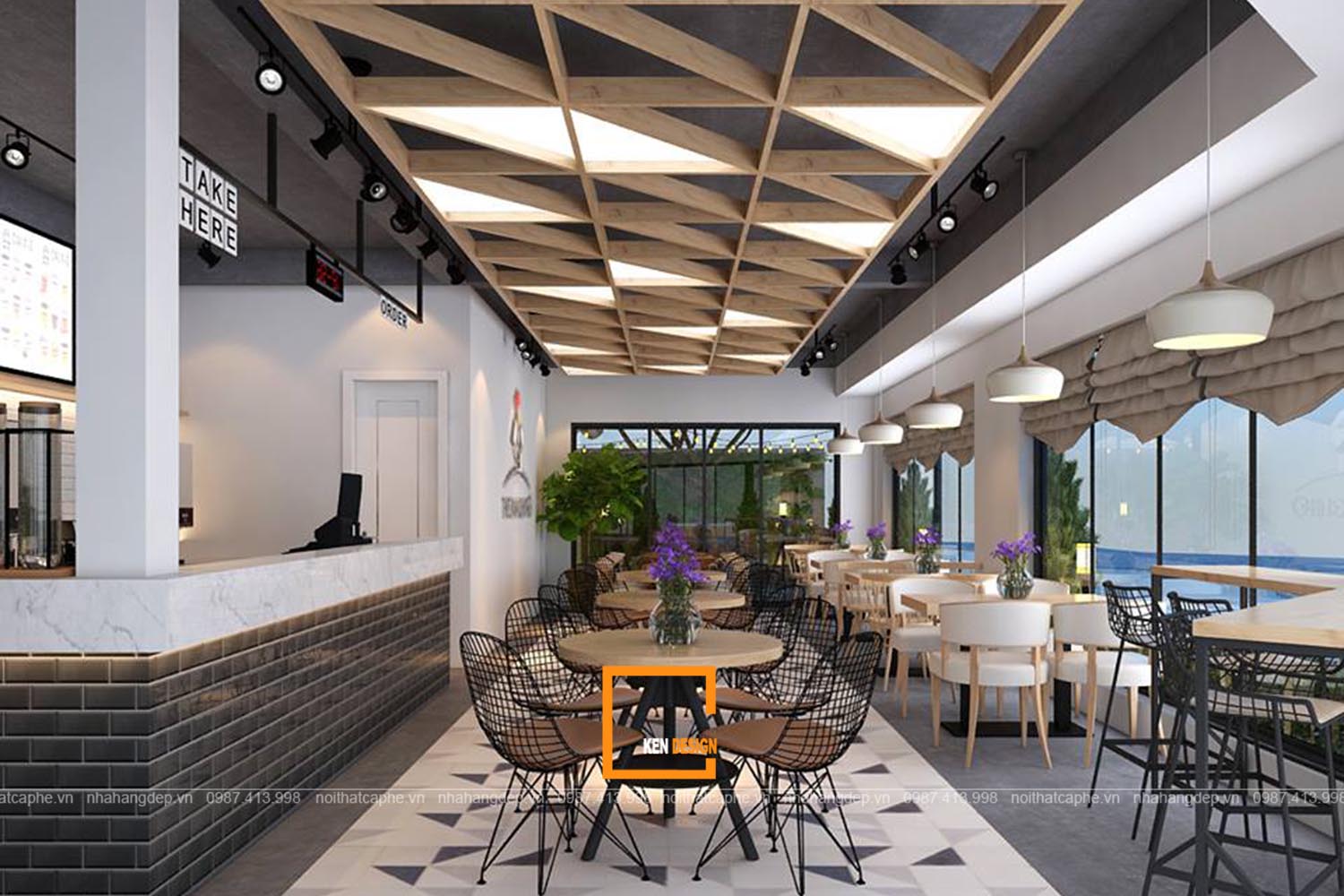 The interior walls of The Machiato milk tea shop are also designed with beautiful backgrounds, allowing customers to take stunning and satisfying selfies. Geometric patterns are still used in the decorations, but with richer colors and lines, creating a beautiful yet non-monotonous appearance. As a result, customers will feel delighted and curious while using the services at the shop.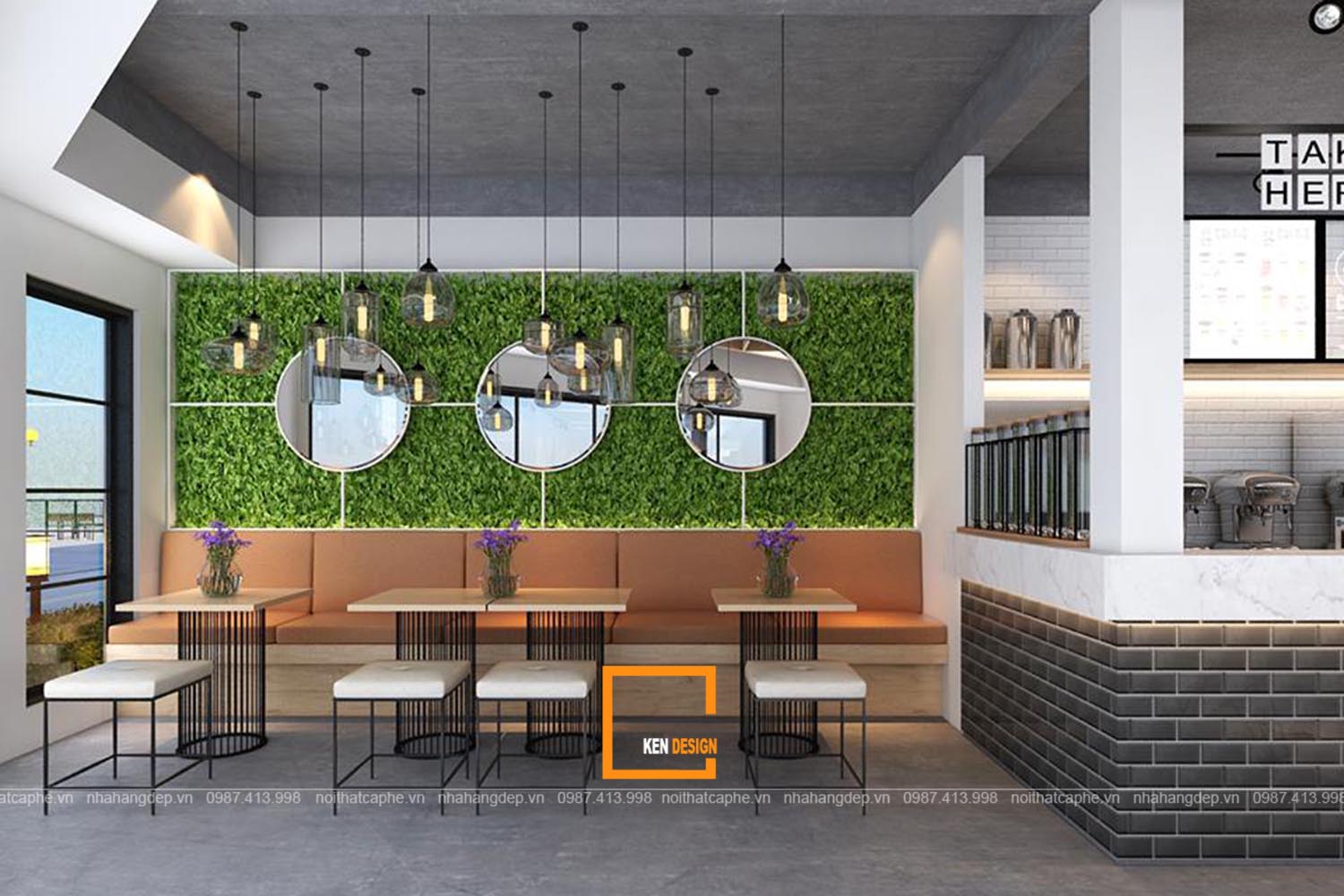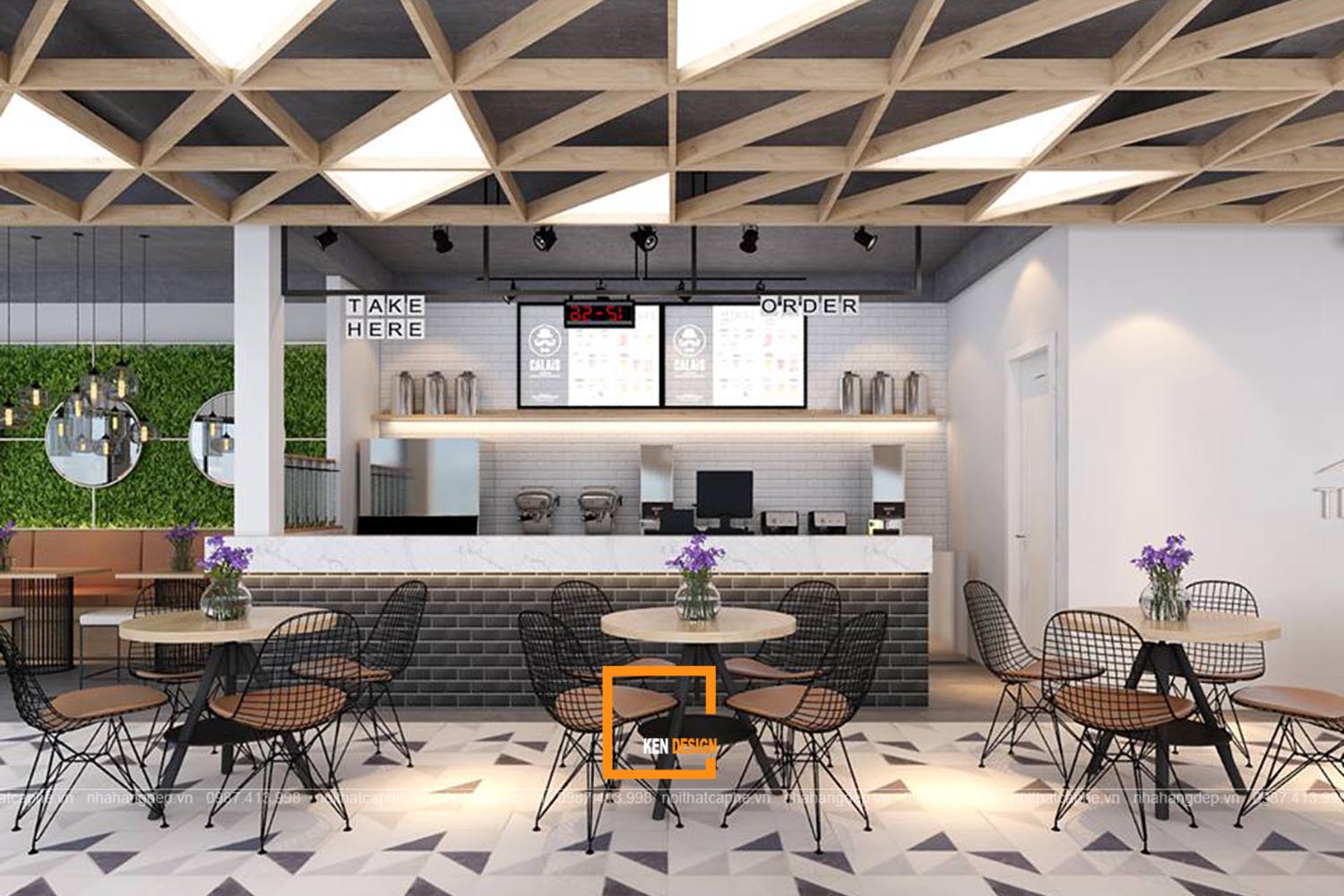 The order counter at The Machiato milk tea shop is designed to be spacious, and simple, yet incredibly functional and flexible, ensuring that the team of staff can serve customers quickly and professionally. The interior used in this area is very diverse, featuring wooden and modern-style metal chairs and tables, bringing a youthful and elegant touch to the space.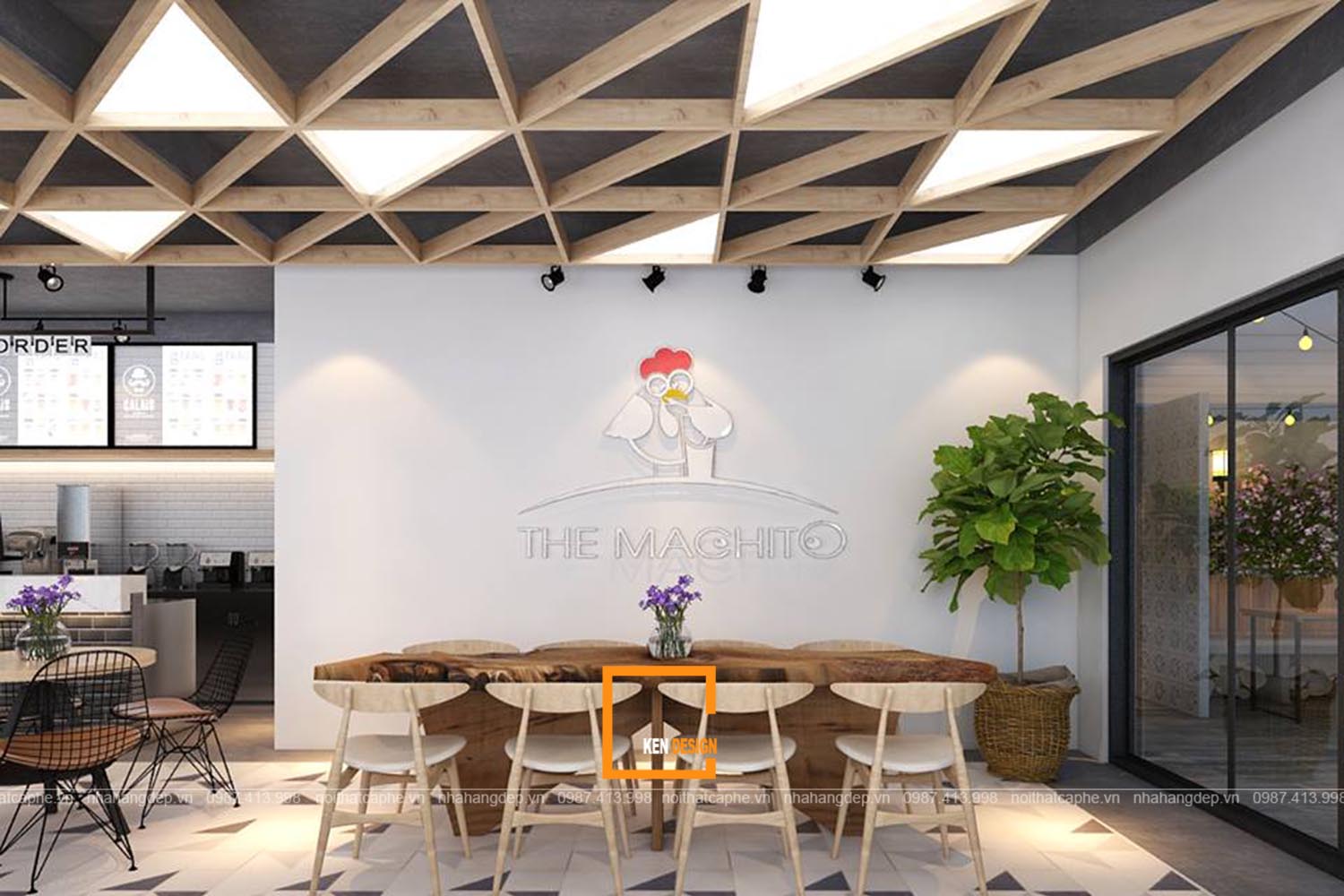 Symmetrical to the impressive ceiling system is the floor system, which is laid with corresponding patterned tiles, creating focal points and leaving a lasting impression on your milk tea shop. The Machiato milk tea shop is combined with a flexible lighting system for each area, making the shop bright and elegant at the same time.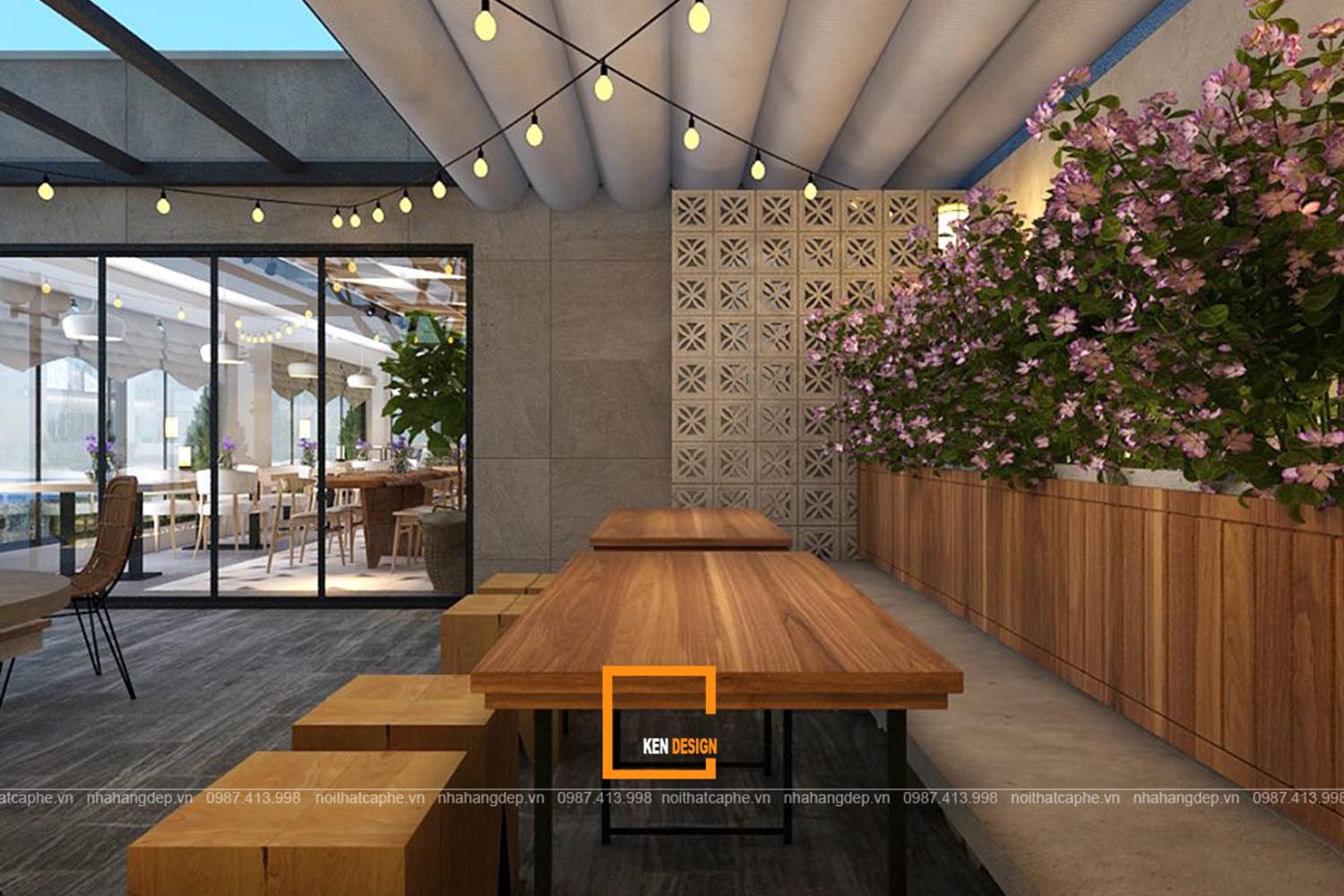 Spacious and Romantic Outdoor Space
As customers walk through the indoor area of The Machiato milk tea shop, they will discover the outdoor space covered with greenery and a well-designed lighting system, creating a sense of openness and romance. The outdoor area is equipped with a canopy system, allowing customers to enjoy the services at the shop even in unpredictable weather conditions.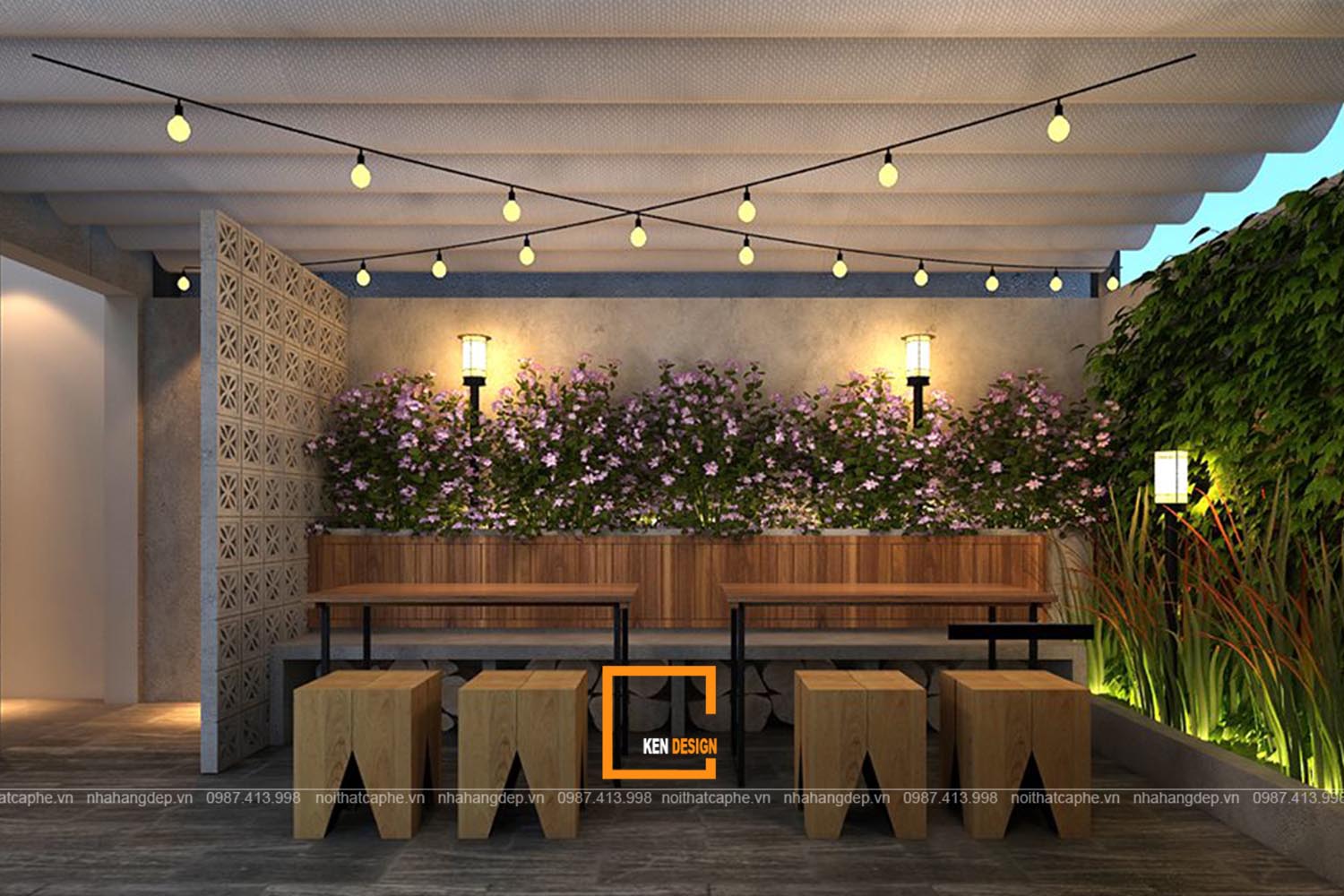 In this area, simple wooden furniture with beautiful patterns is used. Along with a focus on the lighting system and a harmonious arrangement of greenery, The Machiato milk tea shop offers a beautiful and impressive garden space. The flexibility between the garden and indoor space, combined with creative design, ensures that you have a milk tea shop that caters to the tastes of your customers.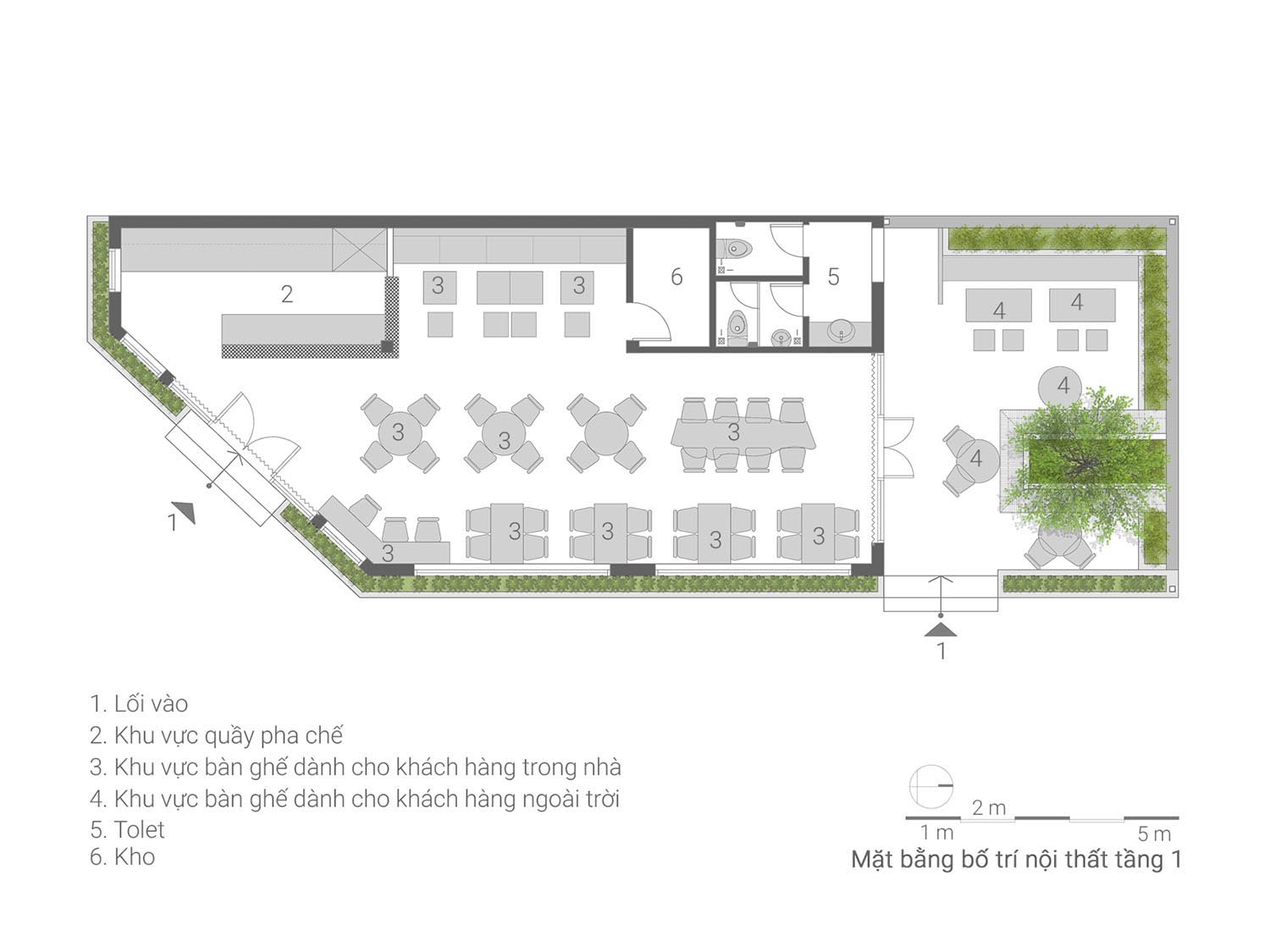 >>See more: Ding Tea milk tea shop design in Ho Chi Minh
The Machiato mới chỉ dừng lại ở phương án 3D nhưng rất được chủ đầu tư tán thành. Đây chắc chắn sẽ là một địa điểm không thể bỏ qua sau khi hoàn thiện. Vậy nếu chủ đầu tư cũng muốn sở hữu cho mình một quán trà sữa cho riêng mình, hãy liên hệ với đơn vị thiết kế quán trà sữa chuyên nghiệp Ken Design để được tư vấn nhanh chóng và có cơ hội nhận được những ưu đãi thiết kế hấp dẫn nhất.